...........................
.
.
..
Aragones. Lineage Aragonese noblemen. Documented in Zaragoza in the sixteenth century. Silver foil cross vert. | Other de Aragón: Golden, an oak vert, and leaving the right-handed side of the shield, arm gules dress, that hand of carnation, aims to tear a branch from the oak. [Armorial de
Aragón, Conde de Doña Marina] [A. and AG Carraffa] [J. de Atienza] [Enc.
Aragonesa] [V. Chains] [Bizén O'Río].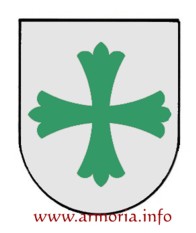 Coat of arms of Reed, Aragon, according Armorial description of Aragon, Count of Dona Marina and others.
..